THE SINGER AND PRODUCER WAS AWARDED WITH QUADRUPLE PLATINUM STREAM CERTIFICATION FOR 'ESTA RICO' IN CHILE
HIS FOUNDATION MAESTRO CARES ANNOUNCES TWO NEW PROJECTS IN LATIN AMERICA IN PARTNERSHIP WITH THEALALAY FOUNDATION IN BOLIVIA AND
«CORPORACIÓN RENAL INFANTIL MATER» IN CHILE
WHILE VISITING VIÑA DEL MAR, CHILE, MARC ANTHONY AND HENRY CARDENAS PRESENTED A DONATION OF $300,000 DOLLARS TO START THE CONSTRUCTION OF A NEW HOME IN THE REGION
THE "CASA HOVDE: MARTA BEDOYA DE CLAURE" HOME IN BOLIVIA OPENS ITS DOORS FOR GIRLS AND TEENAGERS LIVING IN THE STREETS
Miami, FL Febrero 27, 2019: Marc Anthony returned to the internationally known Viña del Mar Festival in Chile were his fans in Quinta Vergara bestowed him with Gold and Silver Seagulls, the highest honors of the festival. In addition, Sony presented him with a quadruple stream platinum certification plaque for «Está Rico».  His performance in Viña brought a new legacy to Chile.
The founders of the Maestro Cares Foundation, Marc Anthony and Henry Cardenas, announced new partnerships and projects in Latin America. 
Right before taking the stage at the festival the singer delivered a donation of 300 thousand dollars on behalf of Maestro Cares. Marc Anthony was joined by Maestro Cares co-founder Henry Cardenas and the producer of Bizarro Live Entertainment, to present the donation to the Chilean ONG «Corporación Renal Infantil MATER.»
The funds will be allocated for the construction of a shelter in Santiago that will receive children from other parts of the country who travel with their family for medical treatments and don't have the resources to pay for accommodations.
This is the first Maestro Cares project in Chile,  after starting operations in 2012 and since developing a vast trajectory of social responsibility work, opening their first home in La Romana, Dominican Republic; followed by another home in Barranquilla, Colombia. In addition, the foundation adopted the Maba Education Program in Lima, Peru; has inaugurated orphanages and community centers in Mexico, Puerto Rico, Guatemala, and Bolivia. Additional projects are currently in development in San Salvador, El Salvador, Chicago (United Staes) and Cali, Colombia. 
Last week on  February 22nd in the area of Huajchilla, Bolivia, south of the city of La Paz, a new home named «Casa Hovde: Marta Bedoya de Claure» opened its doors to thirty young girls and vulnerable teenagers living in the streets.
The construction of this project was made possible thanks to the partnerships made in 2017 between Maestro Cares, Hovde Foundation, ALALAY Foundation, and the Marte Bedoya de Claure Foundation.
The «Hovde House: Marta Bedoya de Claure» aims to reach a greater number of children in situations of social risk and help them restore their fundamental rights. To this end, ALALAY Foundation provides a holistic approach that includes shelter, balanced meals, education, technical skills, and healthcare to the girls that live in the house.
During the inauguration, all four non-profit organizations were present as well as Bolivian Children Rights Institutions, friends and all the girls who will live at the house.
About the Foundations:
Hovde Foundation 
The Hovde Foundation was founded in 1998 to support two central missions: finding a cure for Multiple Sclerosis and helping vulnerable children and families in the US, Latin America, and Africa. The focus of the Hovde Houses is to provide shelter, health, community development, and youth education to children in crisis. There are nine Hovde Houses in Mexico, Ghana, Guatemala, Kenya, Malawi, Peru, Rwanda, Bolivia, and Wisconsin, USA and one new home in progress in Honduras. The Hovde Foundation with its Hovde Houses initiative serves over 500 children a year. https://hovdefoundation.org
ALALAY Foundation
ALALAY was founded in 1990 in La Paz, Bolivia through the initiative of Claudia Gonzáles, the current Director of the foundation. It was conceived with the mission to recover boys, girls, and teenagers who have taken to the streets as their home, constructing opportunities, encouraging restitution, and exercising and promoting their fundamental rights. http://www.fundacionalalay.org
 Marta Bedoya de Claure Foundation
The Marta Bedoya de Claure Foundation (MBDC Foundation) is a non-profit organization that was founded in 2010 by Marcelo Claure. The main activity of the foundation is to provide donations and grants to other charitable organizations that support education, health and poverty alleviation. The foundation also has a focus on supporting children affected by cancer through its grant-giving activities.
About Maestro Cares Foundation
Maestro Cares Foundation is a nonprofit headquartered in Chicago. The foundation aims to improve the quality of life of orphaned & disadvantaged children in Latin America & the United States. The Foundation does so by raising resources and collaborating with corporate and nonprofit partners to provide housing, educational programming, and the essential resources to support their growth and development. Since the launch of its first home for orphaned boys in the Dominican Republic in 2014, the foundation has since opened three youth homes in Colombia, Mexico and Puerto Rico, two community centers; one in Guatemala and one in Colombia, and two foster homes in Bolivia, and funded an interactive program in Peru that provides educational tablets to over 300 children in Lima. All together the foundation has helped to provide safe and healthy environments for over 400 orphaned and disadvantaged youth. This year, the foundation initiated new projects Cali, Colombia and San Salvador, El Salvador, Santiago de Chile, and Jalapa, Guatemala.
www.maestrocares.org
Corporación Renal Infantil MATER
http://corporacionmater.cl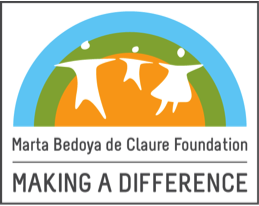 FACEBOOK    

  TWITTER   

  WEBSITE   
  INSTAGRAM
Contacto de medios:  
Blanca Lassalle [email protected]