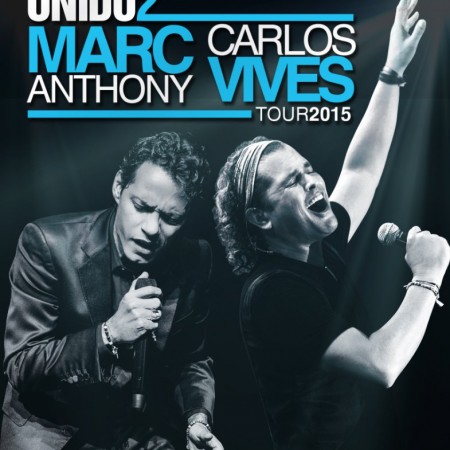 Marc Anthony and Carlos Vives announce UNIDO2 Tour
Miami, FL – March 31, 2015- Cardenas Marketing Network (CMN) announced today the national tour "UNIDO2," a spectacular musical experience with two of the most celebrated stars of Latin music, Marc Anthony and Carlos Vives. In their new tour, Anthony and Vives will perform together in 11 markets of the United States, where fans will be treated to the artists biggest hits, getting access to two full concerts under the same roof.

The tour also includes additional solo performances by Marc Anthony in seven other markets.
The Grammy Award winners, met in Miami, March 31st to take part of the official announcement of this new partnership and the excitement of having the opportunity to work together again was undoubtedly evident.
Tickets for the concert tour go on sale Friday, April 17th at 10:00 AM
TOUR DATES AND VENUES FOR "UNIDO2"2015
FRIDAY, SEPTEMBER 11TH – PUERTO RICO, COLISEO JOSE MIGUEL AGRELOT – MARC ANTHONY ONLY
SATURDAY, SEPTEMBER 12TH – PUERTO RICO, COLISEO JOSE MIGUEL AGRELOT – MARC ANTHONY ONLY
MONDAY, SEPTEMBER 14TH LAS VEGAS, NV – MANDALY BAY ARENA – MARC AND VIVES
WEDNESDAY, SEPTEMBER 23RD – TORONTO, CANADA-MOLSON AMPHITHEATER – MARC AND VIVES
FRIDAY, SEPTEMBER 25TH CHICAGO, IL – ALL STATE ARENA – MARC AND VIVES
SUNDAY, SEPTEMBER 27TH -ATLANTA, GA – PHILLIPS ARENA – MARC AND VIVES
THURSDAY, OCTOBER 1ST ORLANDO, FL-AMWAY CENTER-MARC AND VIVES
FRIDAY, OCTOBER 2ND – MIAMI, FL – AMERICAN AIRLINES ARENA – MARC ANTHONY ONLY
SATURDAY, OCTOBER 3RD MIAMI, FL – AMERICAN AIRLINES ARENA – MARC ANTHONY ONLY
THURSDAY, OCTOBER 8TH -NEW YORK, NY – BARCLAYS CENTER – MARC AND VIVES
FRIDAY, OCTOBER 9TH – BOSTON, MA-TD ARENA-MARC AND VIVES
SUNDAY, OCTOBER 11TH – WASHINGTON DC- PATRIOT CENTER-MARC ANTHONY ONLY
THURSDAY, OCTOBER 15TH – DALLAS, TX – AMERICAN AIRLINES CENTER – MARC AND VIVES
FRIDAY, OCTOBER 16TH – HOUSTON, TX – TOYOTA CENTER – MARC AND VIVES
SUNDAY, OCTOBER 18TH – MCALLEN, TX-STATE FARM ARENA – MARC ANTHONY ONLY
FRIDAY, OCTOBER 23RD – LOS ANGELES, CA – NOKIA THEATER – MARC AND VIVES
SATURDAY, OCTOBER 24TH – LOS ANGELES, CA – NOKIA THEATER – MARC AND VIVES
SUNDAY, OCTOBER 25TH – SAN JOSE, CA – SAP CENTER – MARC AND VIVES
THURSDAY, OCTOBER 29TH – PHOENIX, AZ – US AIRWAYS CENTER – MARC AND VIVES
FRIDAY, OCTOBER 30TH – EL PASO,TX – DON HASKINS CENTER – MARC AND VIVES