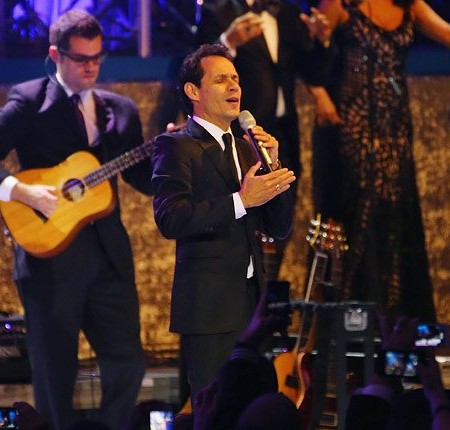 Marc Anthony Returns to No. 1 on Hot Latin Songs
Following Marc Anthony's debut performance of his new single "Vivir La Vida" at the Billboard Latin Music Awards (broadcast live on Telemundo on April 25), the track climbs 3-1 in its second week on Billboard's Hot Latin Songs chart, securing him his first No. 1 on the ranking as a lead artist in nearly nine years. The salsa anthem, which was met by a standing ovation by those in attendance at the festivities, is the title track to Anthony's next album, expected to be released in July. The track becomes his seventh career Hot Latin Songs No. 1.
"Vivir" hits a Hot Latin Songs trifecta, claiming honors for top Airplay Gainer (roaring 37-10 on Latin Airplay, up by 102% to 7 million impressions, according to Nielsen BDS), Streaming Gainer (debuting on Latin Streaming Songs at No. 11 with 248,000 U.S. streams, up 124%, according to BDS) and Digital Gainer (13,000 downloads sold, up 33%, according to Nielsen SoundScan, as it spends a second week atop Latin Digital Songs). The song was uploaded to YouTube the day after the Latin Music Awards and has drawn approximately 225,000 U.S. views to date.
Anthony had last topped Hot Latin Songs as a lead artist with 2004′s "Ahora Quien," which spent two weeks on top. He'd since added two No. 1s as a featured artist: on Tito el Bambino + El Patron's "Por Que Les Mientes?" (for one week in January) and Pitbull's "Rain Over Me" (one, 2011).
Anthony's forthcoming album marks his first set of original songs since "Valio La Pena," which debuted at No. 1 on Top Latin Albums in 2004. He's since charted with the "El Cantante" soundtrack (No. 1 for six weeks, 2007) and a tribute album of Latin classics, "Iconos" (No. 1, six weeks, 2010).
The salsa superstar has sold 7.5 million albums in the U.S., according to SoundScan.
http://www.billboard.com/biz/articles/1560826/marc-anthony-returns-to-no-1-on-hot-latin-songs