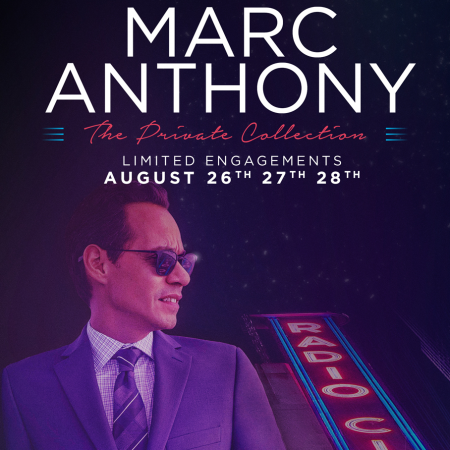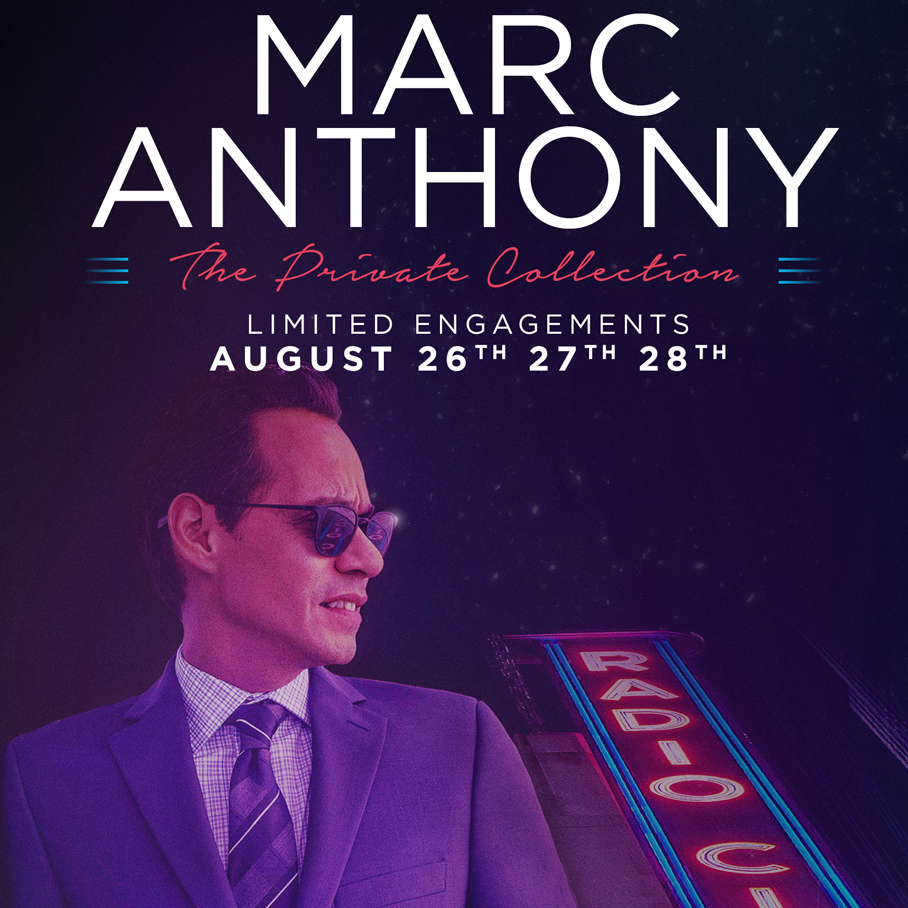 MARC ANTHONY SET FOR FIRST EVER RADIO CITY MUSIC HALL SHOWS WITH "THE PRIVATE COLLECTION" CONCERT SERIES
AUGUST 26, 27 Y 28, 2016 FAN CLUB and VIP PRE-SALE WEDNESDAY, MARCH 16TH GENERAL PUBLIC SALE TAKES PLACE FRIDAY, MARCH 18 AT 10AM
Cardenas Marketing Network (CMN) and MAGNUS Media announced today that Latin music icon Marc Anthony will be back in New York City by popular demand in August. The news comes just three weeks after his sold-out concert at Madison Square Garden, where the Guinness World of Records certified him as the "Solo Artist with most year-end best-selling albums in the tropical album's chart."
Marc Anthony returns to New York for "The Marc Anthony Private Collection," his first ever concert series and on stage as soloist in the world renowned Radio City Music Hall on August 26, 27, and 28, 2016. The shows will embody a journey throughout Anthony's entire musical trajectory.
"Radio City Music Hall is a legendary venue where many acclaimed figures have performed, but until now, I hadn't had the chance to bring my show to that stage. Coming back home with my music is always an honor. Knowing that I am having the chance to perform at the showplace of the nation and one of New York's landmarks means more than my words can express," said Anthony.
Recently, his U.S. tour ranked #1 for being the top ticket seller of the touring circuit in February this year, according to Billboard Magazine. Marc also received two Premios Lo Nuestro Awards this year for "Male Solo Artist of the Year Tropical" and "Male Artist of the Year" making him the most awarded Premios Lo Nuestro Artist of his genre with 29 statues and one special honor, the Premio a la Excelencia.
Fan Club and VIP pre-sale takes place Wednesday, March 16th. To access Fan Club and VIP-pre-sale sign up at
http://community.marcanthonyonline.com/ and follow the instructions. The Marc Anthony Private Collection go on sale for the general public on Friday, March 18 at 10:00 a.m.
To buy your tickets go to:
8/26: http://www.ticketmaster.com/event/3C005059B6EF11FD
8/27: http://www.ticketmaster.com/event/3C005059B7021200
8/28: http://www.ticketmaster.com/event/3C005059B7111203
For more information visit: www.marcanthonyonline.com